SWAA structure: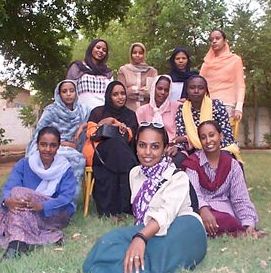 Front from left to right : Inas Alawi, Nahla Mahdi (front) , Fatima Abdelrahim,
Seated: Wisal Dia-Eldin, Nadia Eltayib, Lilla Mukhtar, Teyseer A. Sailm,
Back: Jowahir Elnour, Hajir Ibarhim, Sana M. Eltaib, Sara Ibrahim
Convention

: The convention is all the registered members, and have the right to elect members of the association committee, for one term which is a period of two years.
Committee: Is the 22 elected members of the SWAA convention,
- President,
- Secretary general,
- Artistic affairs ,
- Cultural affairs,
- Members affairs ,
- Financial affairs ,
- Communication,

The SWAA Committee for 2000 - 2002
Wisal Dia-Eldin/ President
Teyseer Abdelgadir Salim/ Secretary general
Oumima Hasab -Elrasol/ Artistic affairs
Amani Mohamed Hassan/Cultural affairs

Nadia Eltyaib Hassan/ Members affairs

Maha Abdelattif/Financial affairs

Shadia Kamal/Communication

Artistic affairs office:
Oumima M. Abdelattif, Rahil Kamal, Lilla Mukhtar.

Cultural affairs office:
Einas Alawi, Mai Abdelaziz, Noha

Members affairs:

Farha M. Zarrouq , Sara ALBadri, Nada Mohammed

Financial affairs office:

Oumima Gaffar, Einam Abdalah Salih, Thani Osman

Communication office:
Randa Abd-Elmutalib, Muahib Ali, Nahla Mahdi

---

Membership:

The Sudanese Women Artists Association have a hundred members since it's establishment 2000.

- Membership is for female artists only .

- Members have to pay registration fee once and monthly membership fee.